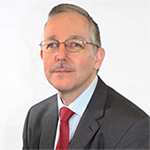 Ian Cliffen
I am an experienced Business Adviser / Mentor with over 40 years in senior management / executive roles. I am a straight talking professional who doesn´t believe in jargon and buzz words. I believe in working with my clients to find the solutions that suit their business needs, not delivering a one size fits all solution. I specialise in solving business owners and senior executives' problems by reducing costs, increasing turnover by increasing productivity and efficiency. Having started in Production Engineering in the late 1970´s I have been priviledged to have designed, built and run production units in several countries. I have worked in The Middle East, South East Asia, The Far East, Africa, North Africa, East Europe and several European countries. I have managed teams up to 8,500 workers. Start ups are a passion of mine. I love to help people turn their passions into a viable business. I am a member of The Association of Busines Mentors and an active Mentor, Interviwer and Peer to Peer Mentor Group Facilitator on the UK Governments Help to Grow Programme. If I can help you in any way, please send me a message in the box below.
Ian is a highly experienced management professional, having held senior positions of responsibility in several high-profile companies. A positive attitude to problem solving in multi-cultural environments has led to invitations to work in several countries. A very logical approach to all matters with the ability to achieve bottom line results with the minimum down time.
Ian can help you with these problems:-
▪ Appraisal Techniques
▪ Business Planning
▪ Business Plans
▪ Coaching
▪ Computer Network Design and Installation
▪ Continuous Improvement
▪ Cost Accounting
▪ Developing and Implementing Policies
▪ Ergonomic Work Place Design
▪ Incentives and Bonus Scheme Development
▪ Job Evaluation
▪ Leadership Development
▪ Management Accounting
▪ Management Information Systems
▪ Mentoring
▪ Method Analysis
▪ Operations Management
▪ Performance Measurement
▪ Plant Purchase and Maintenance Scheduling
▪ Production Planning and Load Analysis
▪ Service Improvement
▪ Social Accountability
▪ Startups
▪ Structuring and Restructuring
▪ Target Setting
▪ Team Building
▪ Team Development
▪ Training and Development
▪ Training Needs Analysis
▪ Work Flow and Plant Design
▪ Work Measurement
Can't find what you are looking for?